06feb6:00 pm9:00 pmVS. System WednesdaysVS. System Free Play Wednesdays
Event Details

Are you a card gamer with a fondness for comic books?

Then the VS. System and VS2PCG is the game for you! VS. System is a card game combination of DC, Marvel and Dark Horse Comics.

Build your favorite teams and battle it out with other players.

If you don't know how to play we'll teach you.

This is a FREE event. Group begins at 6pm and ends at 9pm.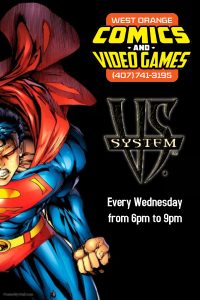 Time

(Wednesday) 6:00 pm - 9:00 pm
Location

West Orange Comics & Video Games

1575 Maguire Road #108
Future Event Times in this Repeating Event Series
february 13, 2019 6:00 pmfebruary 20, 2019 6:00 pmfebruary 27, 2019 6:00 pmmarch 6, 2019 6:00 pmmarch 13, 2019 6:00 pmmarch 20, 2019 6:00 pmmarch 27, 2019 6:00 pmapril 3, 2019 6:00 pmapril 10, 2019 6:00 pmapril 17, 2019 6:00 pmapril 24, 2019 6:00 pmmay 1, 2019 6:00 pmmay 8, 2019 6:00 pmmay 15, 2019 6:00 pmmay 22, 2019 6:00 pmmay 29, 2019 6:00 pmjune 5, 2019 6:00 pmjune 12, 2019 6:00 pmjune 19, 2019 6:00 pmjune 26, 2019 6:00 pmjuly 3, 2019 6:00 pmjuly 10, 2019 6:00 pmjuly 17, 2019 6:00 pmjuly 24, 2019 6:00 pmjuly 31, 2019 6:00 pmaugust 7, 2019 6:00 pmaugust 14, 2019 6:00 pmaugust 21, 2019 6:00 pmaugust 28, 2019 6:00 pmseptember 4, 2019 6:00 pmseptember 11, 2019 6:00 pmseptember 18, 2019 6:00 pmseptember 25, 2019 6:00 pmoctober 2, 2019 6:00 pmoctober 9, 2019 6:00 pmoctober 16, 2019 6:00 pmoctober 23, 2019 6:00 pmoctober 30, 2019 6:00 pmnovember 6, 2019 6:00 pmnovember 13, 2019 6:00 pmnovember 20, 2019 6:00 pmnovember 27, 2019 6:00 pmdecember 4, 2019 6:00 pmdecember 11, 2019 6:00 pmdecember 18, 2019 6:00 pmdecember 25, 2019 6:00 pmjanuary 1, 2020 6:00 pmjanuary 8, 2020 6:00 pmjanuary 15, 2020 6:00 pmjanuary 22, 2020 6:00 pmjanuary 29, 2020 6:00 pmfebruary 5, 2020 6:00 pm